Abstract:

August 2021 titanium sponge production analysis

According to Tuoduo statistics, China's titanium sponge production in August 2021 was 12091 tons, up 19.71% year-on-year and down 2.97% YoY. January-August 2021 titanium sponge production accumulated 96939 tons, up 38.42% YoY and up about 26904 tons from January-August 2020.

根据涂多多统计,2021年8月中国海绵钛产量12091吨,同比增长19.71%,环比减少2.97%。2021年1-8月海绵钛产量累计96939吨,同比增长38.42%,同比2020年1-8月产量增长约26904吨。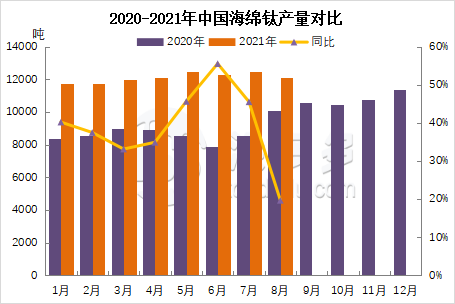 August by the market and power restrictions, the market is not enough to start, including a large reduction in production in the Liaoning region, Guizhou region area production increased over the previous month, the overall titanium sponge production in August decreased slightly.
8月受市场及限电影响,市场开工不足,其中辽宁地区产量减少较大,贵州地区地区产量较上月有所增加,8月整体海绵钛产量小幅减少。
The top three domestic production areas of titanium sponge Liaoning, Sichuan, Xinjiang, accounting for 33%, 19%, 16% of total domestic production, respectively.
海绵钛国内前三产量地区辽宁、四川、新疆,分别占国内总产量33%、19%、16%。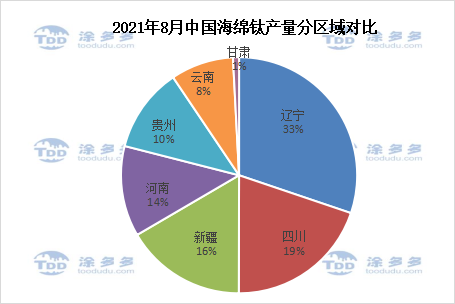 Titanium sponge market overall stability, the supply of raw materials magnesium ingot is still tight, market prices continue to rise, August ingot prices rose by about 8000 yuan / ton, the current price of magnesium ingot about 30,000 yuan / ton, the high cost of raw materials, titanium sponge enterprises are under pressure, of which half-process enterprises have been serious losses. Downstream military market demand is still relatively strong, the civilian market demand is sluggish, the actual transaction price confusion, titanium sponge prices subject to cost pressure part of the low price to stop sales, the actual transaction in the late steady upward.
海绵钛市场整体持稳,原料镁锭供应仍旧偏紧,市场价格持续上涨,8月份镁锭价格累计上涨约8000元/吨,目前镁锭价格约3万元/吨,原料成本高位,海绵钛企业有所承压,其中半流程企业已经亏损严重。下游军工市场需求仍较为旺盛,民用市场需求低迷,实际成交价格混乱,海绵钛价格受成本压力部分低价停止销售,后期实际成交稳中上行。